Plastic Pipe Application
---
Plastic pipe as an important part of chemical building materials, with its superior performance, health, environmental protection, low cost and widely accepted by the majority of users, mainly UPVC drainage pipe, UPVC pipe, aluminum-plastic composite pipe, polyethylene (PE) pipes, hot water pipes which are polypropylene PPR.

Compared with the traditional plastic pipe cast iron pipe, galvanized steel pipe, cement pipe and other pipe, with energy saving, environmental protection, high strength, corrosion resistance, with smooth inner wall has the advantages of scale, construction and easy maintenance, long service life, widely used in building water supply and drainage, urban water supply and drainage, gas, electricity and city cable sheath, industrial fluid transportation, agricultural irrigation construction, municipal, industrial and agricultural fields.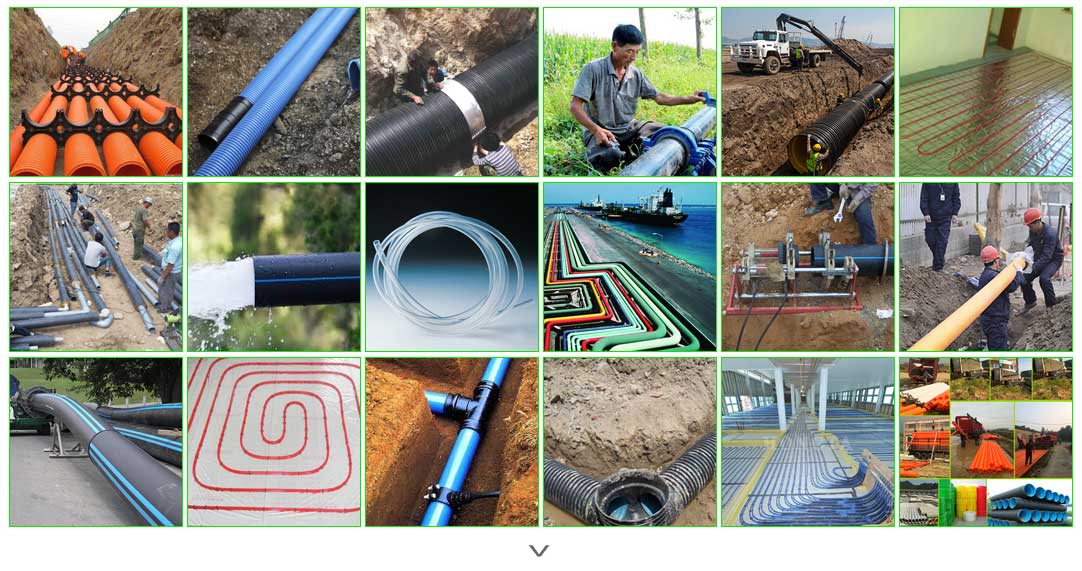 Plastic Profiles Application
---
Plastic profile products are used more: window frames, stair handrails, line trough, baseboard, special-shaped tubes, etc.. Raw materials are mainly hard PVC, a small number of semi hard PVC, soft PVC, polyurethane foam and other materials.




For the hard PVC plastic profiles, there are many shortcomings, such as ACR, CPE, EVA, MBS and so on, which can improve the impact strength. CPE (chlorinated polyethylene), EVA (ethylene vinyl acetate copolymer), ACR (acrylic acid), MBS (methyl methacrylate butadiene styrene graft copolymer) general addition amount 6%~10%. MBS is mainly used in transparent plastic profile products, EVA is best not to use the lead stabilizer, when the molding process is poor, but also easy to powder spot, CPE is best not to share with zinc stabilizer, and CPE low temperature is not good.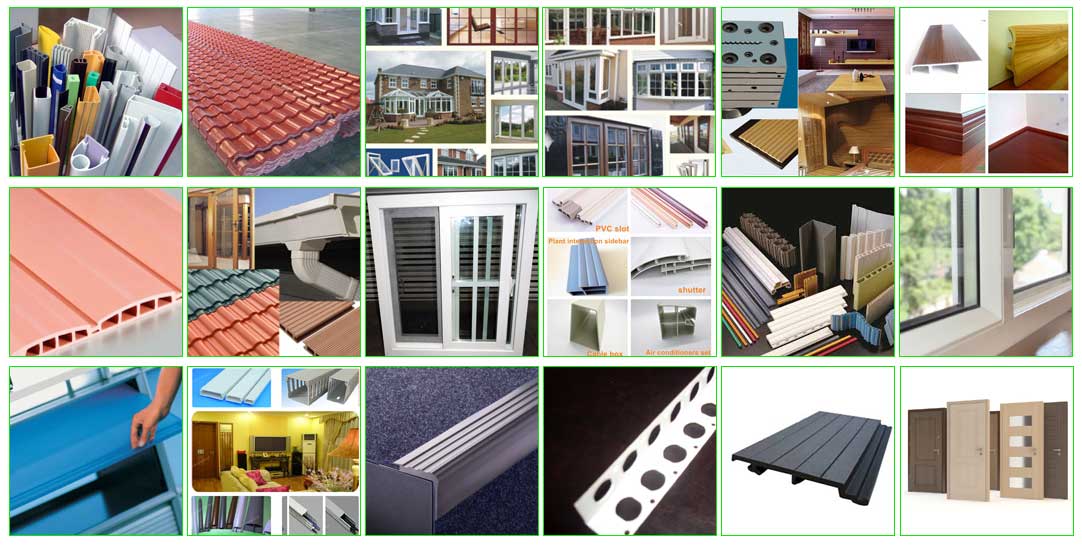 Waste Plastic Recycling Application
---
With the increasing consumption of plastic products, waste plastics are also increasing. At present, the waste plastics are mainly plastic film, plastic wire, woven fabric, plastic foam, plastic packing box and container, plastic products for daily use, plastic bags and agricultural plastic film, etc..

Waste plastics after artificial screening classification, but also through crushing, granulation, modification process, into a variety of transparent opaque plastic particles, again according to the product classification, finally it can be recycled again by the.

Waste Plastic Pelletizer Application
---
The utility model relates to a plastic recycling granulator, which is a molding machine which can make waste plastics into specific shapes. The utility model is widely suitable for various materials which need to be condensed and condensed in the melting point (softening point) within 300 DEG C. Such as: sulfur, paraffin wax, rosin, asphalt, stearic acid, trimellitic anhydride, maleic anhydride; phenolic resin, petroleum resin, modified resin and other resin products; hot melt adhesive, synthetic soap, urea, additives, rubber and plastics additives recycling products.